Onderstaande is een work-in-progress. Wat zijn de minimale vereisten om iets een 'elektronica werkplek' te mogen noemen. En wat zou er in een werkplaats te vinden moeten zijn als kosten, moeite en ruimte geen factor zijn. Schuingedrukt = aanwezig.
The list below is a work-in-progress. What would you require as a bare minimum to call yourself an 'electronics workstation'. And what if price, effort and space wouldn't be a factor, what would you like to find then. Italic = present
De indeling van de elektronica werkplek op de vide is als volgt bedacht: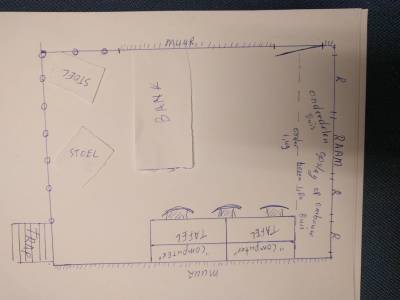 Met áchter de bank een werktafel met ruimte voor 2 a 3 laptopwerkers. Hier kun je dan programmeren aan je gesoldeerde printje zonder de soldeerbout te blokkeren (les uit The Big Building).
Minimale elektronica werkplaats
Apparatuur
Spendables
Capacitors; Foil and/or ceramic 100p to 1u. Elco 1u to 10000u.

Flux pen

LED's; 3mm, 5mm en SMD, multiple colors

Litze

Resistors; E12 reeks, 0.25W/0.5W, through hole en SMD

Soldering tin; Several thicknesses

Wire; solid core, multi strand and multi core. Plus a range of different cable types (think RG58, RG59, CAT, microphone, et cetera
Elektronica werkplaats, the ultimate edition
Apparatuur
De-soldering station (pneumatic)

Function generator

High voltage differential probe for oscilloscope

Lab power supply, high voltage; Up to 2kV

Load simulator

Logic analyzer

PCB mill

RCL bench meter

Reflow oven

Spectrum analyzer

(Stereo) microscope

Thermal camera

Tube tester/tracer

Variac
Spendables
Weerstanden; E24 reeks, through hole en SMD, 0.25W tot 5W en alles daar tussenin

Condensatoren; Folie EN ceramisch, 10p tot 100u, MKS, FKP, MKP, PIO, etc. Elco's 1u tot 100m. Alles in voltages tot 2kV (elco's daargelaten, want dat voltage is beperkt)

LED's. Alle geuren en kleuren, maten en vormen, through hole en SMD

Molex connectoren; Male en female.

Lineaire spannings regulatoren; LM317/337, 78xx/79xx

bron: thesignalpath.com ← Erg vet!